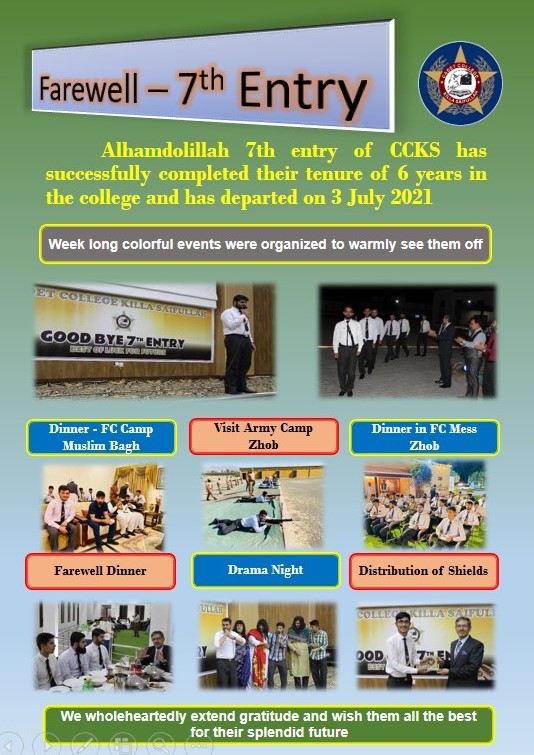 Few glimpses of the events are as under:-

Visit FC Camp Muslim Bagh:- Dinner was organized in FC Muslim Bagh on 29th of June,2021.
Movie Night:- The cadets enjoyed movie night and also performed "ATAN" to celebrate their joyous moments on 2nd July,2021.
Visit – Zhob:- Visit of Zhob was organized on 30th july,2021 and following events were organized:-

Visit Army Camp

:- Cadets enjoyed great hospitality of Army unit, got briefing about functioning of Army and participated in firing.
Visit Salazai:- A visit of Salazai water spring was organized and cadets enjoyed pick nick.
Dinner in FC Museum Zhob:- At night a dinner was hosted by FC, Zhob.
Farewell Party:- Dinner was hosted for 7th entry from the faculty of CCKS.
Drama Night:- Drama Night was organized by all cadets of 7th entry. This was a very joyful event and the cadets added colours to it with their fantastic drama performance, parody and singing. The day was dedicated to the 7th entry cadets to reminisce the years spent together.

Distribution of Shields

:- At the end, shield was given to every cadet of 7th entry.