Cadet College Killa Saifullah
How to Join
If you want to join US you have to pass an Entry Test conducted by a Private Testing Service. Your satisfactory performance in interview, your medical fitness and finally grabbing the top order in the merit list would enable you to be a part of this Premier College. This requires your hard work and concentration towards the goal; if you prove mettle, Cadet College Killa Saifullah will warmly welcome you in the squad of "SAIFIANS".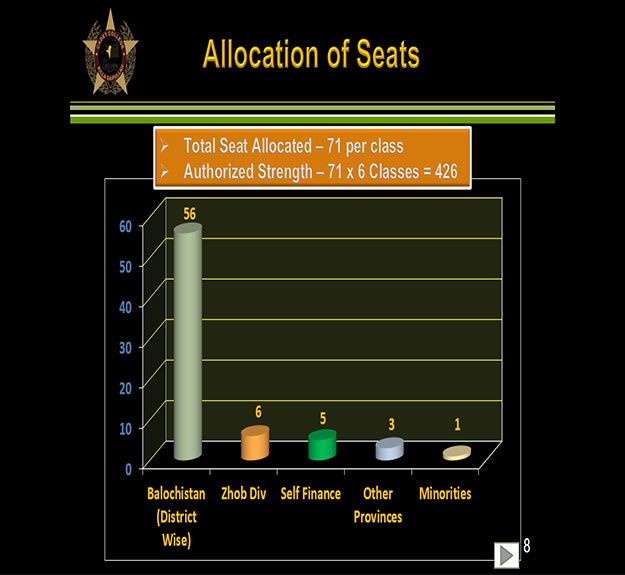 Admissions.
Admissions are opened once in a year only in Class 7th, subject to fulfillment of the general conditions.
Announcement.
Admissions are announced through the leading English and Urdu Newspapers & on College web site www.ccks.edu in the month of November each year.
Eligibility
Male citizens of Pakistan are eligible to apply against the seats allocated to their respective District/Province.
Allocation of Seats for Class 7th
o Districts wise Quota - 56
o Divisional Quota (Zhob) - 06
o Minorities - 01
o Other Provinces (01 for each) - 03
o Self-Finance (Not have passed Regular Test) - 05
Total - 71
Age
Candidates must be over 11 and under 13 years of age on 28 of February in the year of admission for Class 7th. No relaxation of age whatsoever is permissible.
Qualification
Candidate must have passed Class 6th (Sixth Grade) examination at the time of admission for Class 7th.
Entrance Examination
Selection of a Candidate is made through Written Test, Interview and Medical Examination. Written Test will be conducted by Private Testing Service and will be of the Class 6th standard for Class 7th. The following subjects are included in Written Test:
English
Mathematics
Urdu
General science
Syllabus for Entry Test
The syllabus for the above mentioned papers will be from Balochistan Text Book Board for Class 6th.
Selection Procedure
Application forms (enclosed with prospectus), complete in all respects, are to be submitted by the last date prescribed in the advertisement published in the print/ electronic media.
Written Tests will be held on date announced through advertisement in the print/ electronic media and is intimated individually.
Date and Venue for Entry Test will be announced later through print/ electronic media.
A merit list will be prepared of all the qualified candidates.
Qualified candidates will be intimated for the scheduled of interview and medical examination individually.
Final selection will be based on relevant District/ Province/ Minorities/ Self-finance quota.
Final call-up/ Joining letter are then issued (on the day of interview) and the selected Candidate are to join on due date mentioned in Final call-up/ Joining letter.
The College will admit no liability for delay/ no- delivery or loss of the communication due to postal system.
Admission Process - Self Finance Students.
Testing Service result is mandatory for applying for self-finance seats; candidates who could not make it on regular merit apply for self-finance. It is added that Self Finance program is only offered/ acceptable to those who have the financial capacity to afford the program; accepted by the parents at the time of admission in the College. Applications are submitted by the desirous applicants after finalization of regular students' selection. The applicants are re-tested through College Test; result of each test is displayed and top 5x candidates are selected for interview; held in the same manner as of regular students.